What I learned as an APA 2017 National Planning Awards Juror.
By Miguel A. Vazquez, AICP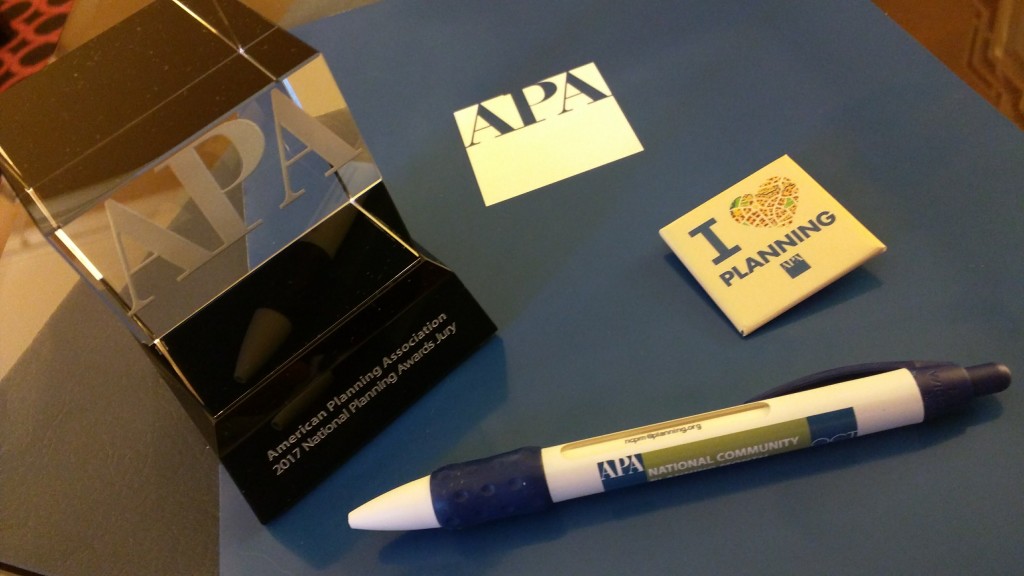 The American Planning Association (APA) offers its members a full range of great opportunities for professional development and involvement. One of them is the awards program.   Projects, planners, plans, planning leaders and advocates are nominated to compete for the highest honors in the profession and practice.  One key component of this process involves assembling jury panels comprised of peers and professional allies who can help identify the winners.
Recently, I had the privilege to serve in the APA 2017 National Planning Awards Jury. I was part of a group of 7 other fantastic planning professionals from across the nation.  Last month, we met at the APA headquarters in Chicago for final deliberations.  Each nomination was competing to capture APA's highest honors in 15 categories ranging from Planning Pioneers to Advancing Diversity & Social Change in Honor of Paul Davidoff.  After much review, discussion and debate we faced the most difficult part of our task: selecting the best in the profession and practice. It was difficult because the majority of the entries were highly competitive, worthy of receiving high praises, but like any other competition, those clearly excelling the criteria went from finalists to winners. They will be announced and honored next year during the APA National Conference in New York City.
As I continue to reflect upon my experience of reading the nominations' narratives, visiting their websites, reading their letters of support and working with the jury and APA staff on such worthwhile process, I am still glowing with inspiration—now more than ever I feel that my efforts to keep pushing my game to the highest level have been amplified.   For this reasons, I am also compelled to briefly share some of my personal reflections and observations about this humbling experience.
If every planning project—or planner working on a project—began its process with the awards criteria and the AICP Code of Ethics in mind, I suspect that every single project would not only be worthy of competing for the highest honors, but also it would strictly adhere to the principles we value as the means to improve quality of life.
Planning is intrinsically a labor of love for inclusiveness. That was the common thread in every single nomination I reviewed.
Many of the submissions revealed that the healthy communities movement continues to grow and asserted that it is here to stay.
An award-winning application depends upon balancing various aspects related to the entry's content, quality, quantity, attention to detail, demonstrated inclusion and support from the community the plan, or planner, is supposed to serve.
No project is too small to compete for the top honors, as long as the vision is big.
As a member of the APA Inland Empire Section, I am now even more proud and appreciative of the following individuals and plans from our region that have garnered APA's  accolades in the past:
2003 Distinguished Leadership Award for an Elected Official
Tom Mullen, Riverside County
2013 National Planning Excellence Award for a Grassroots Initiative
Cathedral City's Environmental Conservation Division (ECD) Kids & Community Program,
Cathedral City
2013 National Planning Excellence Award for a Planning Advocate
Michael Osur, Deputy Director, Riverside County Department of Public Health, Riverside County
2014 National Planning Achievement Award for Transportation
SANBAG Improvement to Transit Access for Cyclists and Pedestrians, County of San Bernardino
2015 National Planning Excellence Award for an Emerging Planning & Design Firm
Raimi + Associates, Riverside, Berkeley and Los Angeles, California