IES-APA Oct 2017 Workshop – Historic Symposium
October 19, 2017 @ 9:30 am

-

2:00 pm

PDT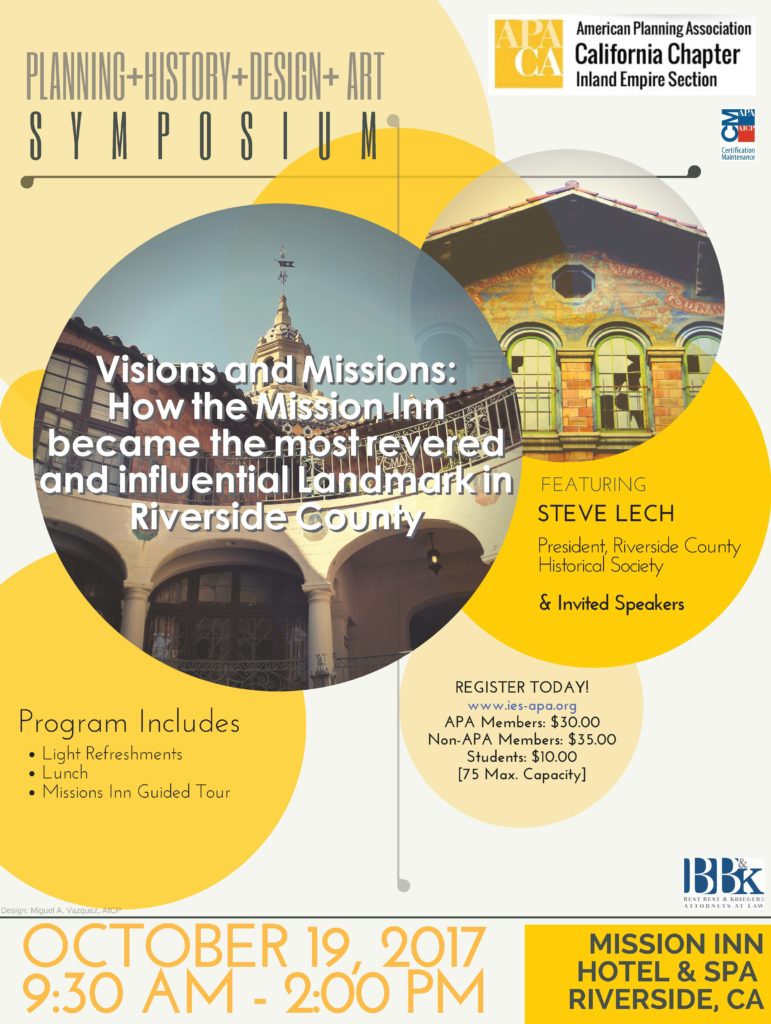 ABSTRACT:
The City of Riverside's rich history is clearly manifested in its built and natural environments. Unquestionably, the Mission Inn is the most prominent and celebrated landmark tied to a romanticized narrative that lead to the emergence of one of the largest global economies in the world: the State of California.
This year's symposium will explore Riverside's agrarian origins that permitted the creation of wealth through farming, land speculation, real estate and entertainment. Trough different perspectives, speakers will explore contributions in planning, design and art from visionaries whose common denominator is the Mission Inn.
LEARNING OBJECTIVES:
1. Learn the origins of Spanish Revival architecture and its influence on memorable landmarks of Southern California through exploring the Mission Inn's history.
2. Name the major forces and individuals who created and preserved the Mission Inn before and after California became part of the United States territory.
3. Discern the value of knowing the history of a place and its influence in planning, architecture and art using the Mission Inn's history as a case study
4. Identify how the intersection of planning, history, architecture and art can help improve economic development and health outcomes.
CONFIRMED SPEAKERS:
Patrick Brien
Executive Director, Riverside Arts Council
Patric Brien has been with the Riverside Arts Council since 2004. Prior to that, he ran professional theatre companies in various parts of the United States and Europe. He has an extensive dramatherapy background, having been part of the artistic staff of Orange County's STOP-GAP, one of the early innovators in the field. He graduated from Chapman University in Orange with a BA in Theatre and in Film and Television. Patrick oversees such programs as arts education, arts in corrections, public art and capacity building technical assistance. Under his guidance, the Riverside Arts Council has developed art as therapy programs serving veterans, developmentally disabled adults, Alzheimer's patients and youth impacted by gang involvement. Patrick serves on the board of directors for the California Arts Advocates and Californians for the Arts, as well as the Riverside Downtown Partnership, Homespun Players, Inland Valley Repertory Theatre and Olive Crest, a foster care organization. He also remains active as an actor and director, having staged such recent productions as "True West," "The Last Days of Judas Iscariot," "The Pillowman," "The Shape of Things" and the west coast premieres of "The Library" and "When We Were Young and Unafraid" for his side company, The Gestalt Theatre Project.
Erin L. Gettis, M. Arch, Associate AIA
City Historic Preservation Officer and Principal Planner, City of Riverside
Erin Gettis is the Principal Planner responsible for oversight of the Neighborhood Engagement Division, which includes Historic Preservation, Neighborhoods and Health in the Community and Economic Development Department. The Neighborhood Engagement Division focuses on meaningful community engagement utilizing Asset-Based Community Development.
Erin has been in the Historic Preservation Field for over 22 years, the City Historic Preservation Officer for Riverside for over eleven years and the lead Historic Preservation staff in three jurisdictions in California. Erin has a Bachelor and Master of Architecture degrees with a certificate in Historic Preservation from the University of Washington and in 2012 obtained an Environmental Leadership Academy Certificate from California State University – San Marcos. She has worked at architectural firms in Seattle, Madison & San Diego, including restoration of two State capitols. In 2011 Riverside's Historic Preservation program won a Best Practices Award from the American Planning Association, Inland Empire Section under Erin's oversight. Erin currently serves on the DOCOMOMO Southern California Chapter Board of Directors and previously served on the Education Committee for the California Preservation Foundation, the Board of Directors for the National Alliance for Preservation Commissions and co-taught the Historic Preservation Practicum at University of California – Riverside. Erin designated her home, the Landmark Clinton and Geraldine Marr Residence #2 (West Coast Modern post and beam style house) in 2013 and is in the process of submitting it for the National Register. She lives there with her husband, two children and four rescue dogs.
Steve Lech
Historian, Author
Steve Lech was born and raised in Riverside, California. He has been interested in local history for more than 35 years. When he began working for Riverside County, he became increasingly interested in the county as a whole, which has led him to research and write 7 books of various topics. Included in these are Along the Old Roads (referred to as the definitive history of early Riverside County), More Than a Place to Pitch a Tent (about Riverside County's regional parks), and For Tourism and a Good Night's Sleep (about the beginnings of the Pines-to-Palms Highway). In addition, he has authored 4 books for Arcadia Publications, including Riverside in Vintage Postcards, Riverside 1870-1940, Riverside's Mission Inn, and Resorts of Riverside County. He currently writes a local history column entitled Back in the Day for the Press-Enterprise newspaper, and continues to research many topics related to the history of California's 4th-largest county.
Mark Roberson, M.Arch, AIA
Dean, College of Architecture, Visual Arts & Design at California Baptist University
Professor of Architecture
Mark Roberson came to Riverside and California Baptist University in September 2011 to begin his role as founding Dean of College of Architecture, Visual Arts & Design, and to launch CBU's new architecture program.
Prior to coming to CBU, Mark was the Vice President and Director of Design for Fender Architects in Fort Worth, Texas for 15 years. Mark has created cutting edge designs for such buildings as Inspire Insurance Company, All Church Home for Children, Trimble Technical High School, 800 Eight Ave., Energy Fitness, Fillmore Law and many others. Mark is a member of the American Institute of Architects, is LEED certified and is a licensed architect in the State of California. Mark was born in Fort Worth and attended University of Texas Arlington for his undergraduate studies, earning a Bachelor of Science in Architecture from UTA. Mark then earned both a Bachelor of Architecture and a Master of Architecture from University of Southern California, and worked in L.A. for several years at the Architecture Studio. Mark had previously taught architecture at UTA, USC, the Modern Art Museum of Fort Worth, and the Ecole Des Ponts in Paris, France.
Mark lives in Riverside with his wife and four children, and enjoys involvement in numerous community activities.
ADDITIONAL SPONSOR:
Event/Flyer: October 2017 Historic Symposium_10-19-17