The American Pl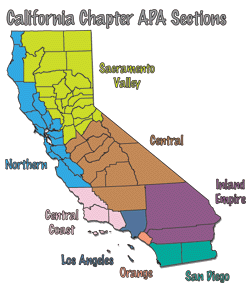 anning Association (APA) is a non-profit professional research organization committed to urban, suburban, regional, and rural planning. APA is the result of a merger between the American Institute of Planners, founded in 1917 and the American Society of Planning Officials, established in 1934. The organization has 46 chapters which generally correspond to state boundaries and is further subdivided into regional sections. This section is one of eight in California and covers Riverside and San Bernardino Counties. San Bernardino is the largest county in California and Riverside is one of the fastest growing counties in the state. The Inland Empire Section (IES) of the American Planning Association has over 500 members, representing the public, private, and academic sectors.
The IES-APA sponsors a number of events throughout the year, as well as administers training seminars and workshops. Please refer to the Events section to preview upcoming activities or the News section for the latest Planning information and IES-APA happenings. If you are interested in participating on the IES-APA Board, please visit the Executive Board section and contact the Section President for more information.
Additionally, the IES-APA offers a number of sponsorship opportunities, including website advertisements, News article inserts, IES-APA group emails, and workshops. Please visit the Sponsorships page for more information.
The Board welcomes you to the IES-APA and looks forward to hearing from you!