National Planning Conference [NYC] May 6–9, 2017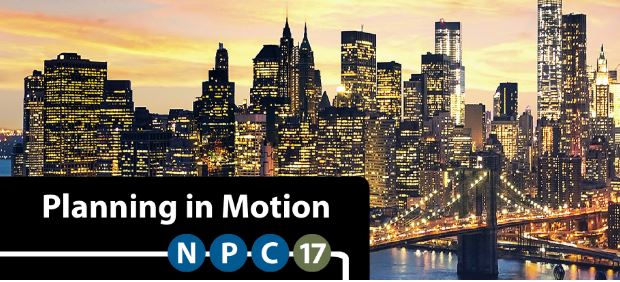 Planning is on the move — to New York City!
Registration is open for APA's 2017 National Planning Conference in New York. NPC17 will be the premier planning event of the year, with hundreds of options for tours, advanced training, mobile workshops, special events, and opportunities to network with planners from across the country and around the world.
NPC17 has the big three
Location. Learning. Connections. NPC17 more than satisfies the big three reasons to attend a professional conference.
Location: New York City (enough said).
Learning: Get excited by new trends, challenges, and solutions that are shaping planning. Go home smarter and full of ideas to plan better at home.
Connections: Take advantage of myriad conference networking opportunities to boost your career and further your professional goals.
Reserve your place today! APA members who register early save $315 off the nonmember rate.
Location
Jacob K. Javits Convention Center
655 W. 34th St.
New York, NY 10001